The saxophone has been around for about 160 years now and shows no sign of losing its popularity. 
Although never really accepted in the classical world ( its tone is not considered to blend well with conventional orchestral instruments) there are many saxophone quartets and ensembles in existence who play music of a 'classical' style, with great success.
 But the saxophone is and always will be an instrument of the jazz world. In fact it is almost the personification of jazz, both in appearance and sound.
  It is capable of an incredibly wide range of tones and styles, so much so that most of the great individual stylists can be recognised after just a few notes.
Although its tonal versatility is much abused, in the right hands it can communicate emotions of great warmth and tenderness, through to a fiery passion, and has a dynamic range which is the equal of any instrument.
The conventional range and most commonly played saxophones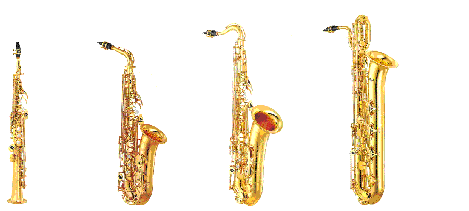 Soprano                 Alto                    Tenor                  Baritone